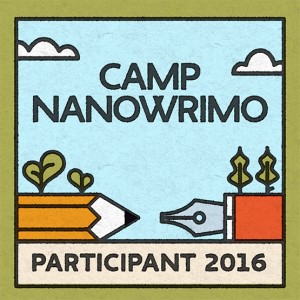 Or not as the case may be … I've joined a cabin for July CampNaNoWriMo and set myself a modest initial target as I did in April.  Although I should exceed it, I don't think I'll be able to manage so much editing this time as in April, because I have a busy second half of the month looming.  Never mind, I've been able to manage 18.5 hours of editing so far and have moved on with the current text-to-speech edit.
That's also with doing three crits for an email crit group in the past week or so.  I usually end up spending a couple of hours apiece on those so they are a significant chunk of writing time, but of course I'm getting a critical eye on one of my own books in return, the one I completed the first draft of after a couple of years of NaNoWriMo.  They've thrown up quite a few developmental issues that I need to address.  Like a lot of my unfinished novels, this was started years ago, and until the last couple I couldn't get time or sufficient motivation to push on with it.  NaNo was useful for that, plus a couple of writers' retreats I attended where I got a good chunk done each time.  Sadly, that retreat has closed, but I'm doing my own mini retreats in effect.
Anyway, it's a toss up as to which book I should turn my attention to once I've got the current WIP completed and self published.  The most sensible thing would be to tackle one of the two short books that have had a load of rewrites over umpteen years as I don't think either of those will need a lot of work, compared to what I've had to put in on the current one.  After that, there is a long contemporary supernatural novel that will need a lot of work to bring it up to date with modern developments – unfortunately, life has caught up with fiction as it deals with a lot of topics such as mass migration that have become very pressing in recent years, so I'm not sure how I'm going to tackle that.  And then I have the one I'm sending to the crit group, plus a partly written murder mystery/supernatural tale set in different time zones, and fragments of about three or four other books.  Oh, and there's the other supernatural one that needs a complete rewrite.  So lots to do, which is why it is important to focus on one thing at a time otherwise it gets a bit overwhelming.
So the goals this time with progress:
Play the novel through on text-to-speech and make further amendments

– done to end of Chapter 26

Work out how to format a Kindle book including the front and end pages and what to put in those – 

No further progress, but I have found an article I bookmarked ages ago which has a different method and I'm going to follow that one when I finish the current play through because I am going to repeat the exercise to catch any typos that have been introduced by the current round of edits, which turn out to be a lot more substantial than I was expecting

Once the final edit is complete, approach the various editors previously identified as possible pro editors  to establish how much it would cost for this long first MS, and whether it can be done without having to spend 'loadsamoney'.
And here are those nice ROW80 people and their updates: