Squidoo does take up time, doesn't it?
The last few days have been spent battling with Squidoo.  I enjoy the creation of words but all the palaver with html to get pictures positioned and captioned, not to mention resolving copyright issues.  Lots of extra tasks are piling up such as sorting out affiliations, researching tools to let me put on links to the UK Amazon site … a bit dispiriting.  I'm starting to wonder if it's worth the bother.
Due to all this, I've had no time to work on my WIP.  And that is annoying.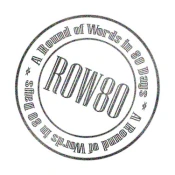 Anyway, here's the rest of the ROW80 participants.